Ballet powerpoint templates can be used to project Ballet which originated during the fifteenth century during the period of Italian Renaissance, and soon gained immense popularity in Italy and France.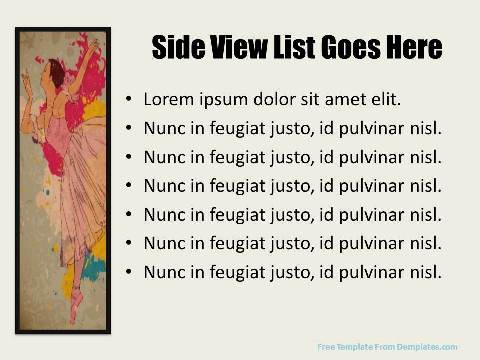 In France, it was said that King Louis XIV created the classical ballet style and went on to establish an institution for ballet training and provision of certification of instructors in ballet. Later on, styles like neo-classical and contemporary ballet emerged after imbibing influences of the passing of centuries.
The free ballet PowerPoint template has a vintage feel to it in a stark white background, with the portrait of a ballerina in a classical ballet costume of a long tutu skirt in pastel colours. The PowerPoint template can be used during art history sessions, where interesting facts about ballet and how it was perceived during its time of origin can be used in the slideshow. Pictures of the evolution of ballet styles can also be put in the slideshow, with small teaser video clips of famous ballet pieces.
You can download Ballet history Powerpoint Template from below link:
[sociallocker id="1695″] [wpdm_package id='1694′][/sociallocker]