Designing an event flyer that can catch the attention of your target audience is a not a mean task and requires a lot of planning. However, there are also many free event flyer templates available over the web that can make your work easier, especially because all these can be customized as per your requirements. So, here are 20 such free event flyer templates for a range of events starting from a spring event to a car show. Just pick up the one that seems most suitable for you and edit it!
1.  Spring Event Flyer  
A broad navy blue border, blue rain drops and an image of a cottage surrounded by fresh green leaves with tiny pink flowers say all about the perfect spring flyer template.

2. Summer Event Flyer  
Designed in subtle sky blue the template features a red bucket and a bright yellow hand spade with ample space to write the event details.

3. Academic Event Flyer  
The black and white template has the vent name in bold in white to stood out prominently and has been downloaded more than 70K times.

4.  Generic Event Flyer 
The template is apt for advertising any kind of event. With a simple design in subtle colors and a bright banner at the bottom, the template looks elegant.

5. Fall Seasonal Event Flyer 
The color block design template  has mainly two colors-orange and red while the text area is white with text in black as well as red. Logo space is also there.

6. Fall Event Flyer 
The falling leaves background makes the template an ideal one for advertising a fall event in simple but elegant manner.
The template is editable in photoshop and has a geometric design pattern in multi color over a light background.

8.  Origami Event Flyer
The PSD template is a lovely one in two shades of blue with heading in bright orange in bold to create a contrast and creating a great impression.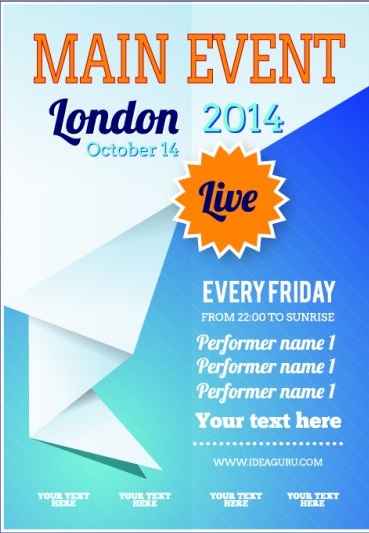 9.  A4 Format Space Event Flyer 
The editable template can be used for a flyer as well as a poster for any space event with a space background and hexagon text blocks.

10. Geometric Editable Flyer 
The sea green template has a multitude of triangles and circles of various sizes in red and pink with event name in bold white color.

11.  Retro Flyer Template For Event 
The stunning template features a rare combination of red, black and pink to create a retro impact.

12.  Social Event Flyer 
The simple PSD template has a black background and text in bold in contrasting bright yellow as well as white. Fonts are also available for free download.

13. Event Flyer PSD 
The retro style template feature a contrasting color scheme. The template can be edit fully in photoshop easily.

14. Summer Flyer Template 
The green template in PSD is a perfect one for any summer event. With colorful flowers and greenery, the template is an awesome one.

15.  Special Event Flyer 
The template in word can be used for any fall event as well as special event like worship gathering and has a simple design.

16. Sports Event Flyer 
The template is an awesome for to advertise a sports event like basket ball as it has an image of a basketball net in the background.

17. Reunion Party Flyer 
With colorful balloons, gifts back and illustration of people having fun, the template is apt for a reunion party flyer.

18. Kids Workshop Flyer
The vibrating template in microsoft publisher for kids painting workshop has a broad yellow border with colorful handprints and white space for the event details.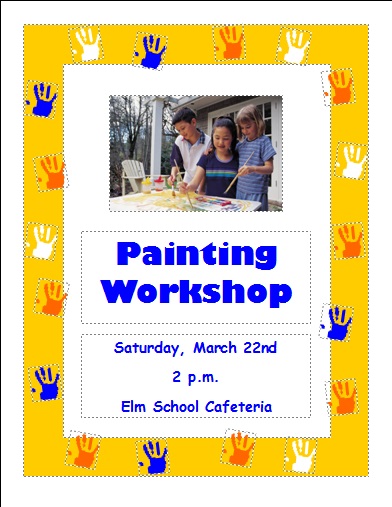 19.  Graduation Ceremony Flyer 
The no-frill template feature a bright border and a sketch of a student with a graduation cap, gown and degree.

20. Car Show Flyer 
A red smashing racing car, a golden cup and two flags on a white background make the template an irresistible one for any car show  event.

Hope, all the free event flyer templates featured above for advertising any event can be of great use by a little customization. So, just download these flyer templates and impress your audience. It is possible to replace the images also by yours and to include your own company or organization logo wherever needed.