Yoga classes are in the boom now! If you are conducting Yoga classes in your home or at any other suitable place, it is time to have some eye-catching yoga flyers to promote your yoga classes. Yoga Flyer can be designed in PSD, WORD, and PPT formats.
Here we have brought a collection of some visually appealing yoga flyer templates free for professionals. You will surely love to have templates.
Template For Yoga Flyer
The Flyer is an elegant one with a good use of multiple colors to make it attractive. While there is a logo in blue in the top left corner, there is a yellow footer with contact number in black. The template features an image of a woman doing meditation on the ground. Barring the header in blue, all other text details about classes are in small font size.

Free Yoga Class Flyer Template
The template features a two-column design on a white background. It has an illustration of a cute girl doing yoga to the left and a brown colored box on the right featuring benefits of yoga and other details about yoga classes.

Yoga Flyer Template PSD
With the use of bright hues of blue and orange, the template seems perfect to promote your yoga camp. Various shadow images of people in different yoga postures are the dominant feature of this yoga flyer template.

Yoga Retreat Flyer Template
Only one word can describe this template and it is elegant! The pink and purple flyer has a figure meditating against a backdrop of a giant lotus and below the same; there is a vast text portion with text in purple, black and white.

Yoga Studio Flyer Template
The template has a soothing color scheme of light and dark green. A single image of a person meditating on a flat surface and plenty of text space below makes the flyer an appealing one. The header and brand name are however in pristine white to build a good color contrast.

Yoga Class Flyer Template PSD
This one has a rather simple design with a large white circle on a light-green background. The background has multiple faded images of people doing a variety of yoga asanas. The prominent ring has a motif of lotus and text in black and green.

Yoga Workshop Flyer Template – PPT
The template features a two-column design below a full header space consisting of the header in bright red and a black and white image of a girl in meditation. Both the columns below the same separate from each other via a narrow black colored vertical line and have text in red and black on a light image background.

Yoga Flyer Template Word
Creative flyers always manage to catch the attention of its audience and the below one is not an exceptional. With a dash of green and yellow color on a white background, the flyer template also features a sketch of a girl sitting in meditation.

Free Yoga Flyer Template
The simple brochure has an eye-catching illustration of a beautiful woman doing a yoga asana while standing on one foot on a white background. Rest of the brochure has text details to the left on a light purple colored background.

Yoga Event Flyer
If you are organizing a yoga event, download this flyer as it has an excellent image and an illustration to make it loud that it is at a yoga event. The event details are in black on the right-hand side.

Yoga & Meditation Flyer
The flyer has some interesting graphics in bright hues of red, orange and blue as well as an illustration in black on a light colored background. The text is all on the right in black and red color.

Yoga Club Classes Flyer
Yoga classes are always full of fun, and the flyer shows it clearly with an illustration of a woman jumping while holding a big black circle with venue and timing details of the classes. The background is interesting with multiple square vectors like a chequered pattern in various colors.

Yoga Retreat Flyer in PPT
It is best to practice yoga early in the morning, and the flyer for a yoga class depicts the same with images of people doing yoga and the rising sun in the backdrop. The combination of orange and black makes the template an interesting one.

Yoga Workshop Flyer
Multiple colorful stripes make the template a striking one with some impressive illustrations to adore. The text is all in black on the right-hand side.

Pure Yoga Flyer
The template in a combination of white and light purple is an ideal one for promoting a yoga weekend. It also features an image of a lovely woman in a yoga pose standing on a yoga mat.

Yoga Flyer Templates Free Download
With two small circles of varied sizes, the yoga flyer template looks promising. It has an image of a person doing a yoga asana in an open lush green field. The color scheme is white and orange.

Promotional Yoga Flyer
The combination of purple and white always look a bit different, and the flyer with the same and an added image of a girl standing in a yoga pose has added a certain charm.

Corporate Yoga Flyer
The flyer in various hues of blue is highly attractive and features an illustration of a girl doing a yoga pose and the Hindu religious symbol 'OM' too. It has its text in white on a blue background.

Kids Yoga Flyer
For attracting children, it is always better to have a flyer, which has a good image or illustration and this one with a large picture of a girl enjoying yoga. The soothing color scheme of white, light green and a dash of sky blue make this template more appealing.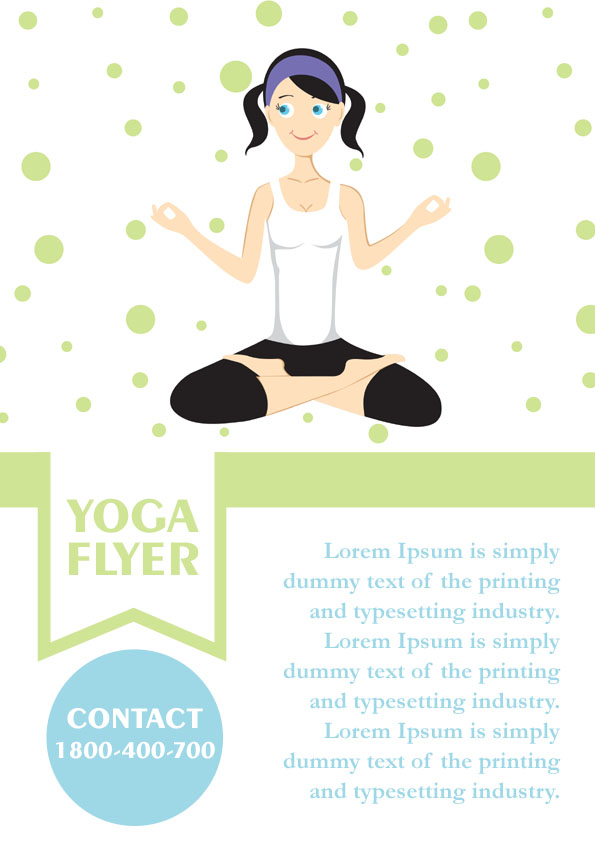 Pink Yoga Flyer for Women
The template in a combination of white and baby pink looks great with three small circle-featuring illustrations of a woman in different yoga poses and proper use of white space. It has a header in white and other text details in dark pink on a light background.

The ancient practice of Yoga of India has now turned into a full-fledged industry registering a tremendous growth worldwide. It has opened a plethora of opportunities for those who desire to stay physically fit but finds doing aerobic exercises or hitting the gym regularly quite impossible. Many people are now earning by teaching yoga to children, teenagers, or adults across the world.
Now is the time for all the Yoga teachers to make use of these opportunities. We strongly believe that this list of Yoga Flyers will be a small stepping stone in your success.
All the flyers are downloadable and editable using easily available computer software. So do not wait! Just pick the one that suits your needs.