Picnic is always the most cherished memories or our childhood days. It is something more than a get-together of family or loved ones as it has a soothing effect on our minds facilitating a relaxed feeling which we never get in our routine life style. So, here we are presenting for you a bouquet of wonderful 15 free picnic flyer design templates that you can use for making preparations for a memorable picnic. So, here we go!
Community Picnic Flyer Template
A  cool blue flyer design template in power-point with a dash of bright yellow is just apt to send an invitation for a community picnic. The text is fully editable and  you can download the template here. For more info, click here.
Picnic Flyer Template In Word
The flyer is an elegant one yet simple with all the ingredient of a successful picnic at its best. To get the template, download it now.  To have any additional information, click here.
Picnic Banner Templates
Whether it is a vacation or non-vacation season, picnics are always fun along with friends and family members. If you are looking for picnics, our beautiful collection of picnic banner templates helps you to get the message out along with your upcoming picnic events details as well. These banners are also helpful to welcome your guests when they reach picnic spot (in regards of parking, food, drinks, restrooms and more).
Picnic Flyer Template With Ornate Red Border
If you are thinking to have a simple flyer template with a nice border and basket of mouth-watering strawberries, download the template in doc format from here.
Picnic Banner Samples
Banners play vital role in picnics as they give complete details about the picnic like identify and direct people, welcoming guests etc. Do you think creating banners is difficult!? But making banners is not that difficult as you think and you no longer need not to worry about it. Yes, anyone can create professional and fun filled banners using our variety of banner designs and samples that display your message or advertisement needs. Have a look and personalize one for yourself today!!


 Elegant Picnic Flyer Template 
The flyer template created in Microsoft word 2007 is an elegant one and can be customized easily. To access the inviting template for a great picnic day, click here.  Have more info about the template here.
Picnic Flyer Template In MS Word
With a black border and two people enjoying a picnic while sitting on a mat under the shade of a true appears tempting to accept the invitation. Isn't it? Download the editable template here and not to miss the additional info about the same.
Free Download picnic invitation template
Throwing picnic parties is a great way to refresh and to have some recreational entertainment among families and friends especially who live away from each other. Well, for such a most fun event, we have come up with premium invitation designs and templates. Browse our amazing collection and find your favourite customizable picnic invitation design. Now create, download, edit and send online for free.
Church Picnic Flyer Template 
The template is lovely one with a colorful banner at the top and the message below. The template can be edited in Adobe photoshop or paint brush easily. Download the template here.
Church Picnic Flyers
Church picnics are also even more fun-filled if they are well planned. Church picnic is all about gathering families so that they get to know about each other and build relations. To make it successful, one has to create attractive and innovative church picnic flyers to make the message reach to all the guests. Promote your church picnic idea through Free Church picnic flyers.
Sea Shore Picnic Flyer Template 
The  word template beautifully depicts the essence of a picnic on a palm studded sea shore with vast spread of sand. Download the template from here.  Check out the additional information here.
Family Picnic Flyer Template 
The template has a wood color border and some benches perfect to portray a family picnic at its best on a light blue background. The flyer  can be edited easily by using paint brush easily and can be accessed here.  Get more info by clicking here.
Summer Picnic Flyer Template
We all look forward to have picnic parties especially in summer. If this is the case, distributing picnic flyers is the easiest way to spread the message around. To make your guests say "What a Picnic Flyer!!" you just need to browse our great designs, ideas and samples of Summer Picnic Flyer Templates. Our templates are completely customizable and can easily be adjusted to fit your needs.
Classic Picnic Flyer Template 
Decorated blue diamond border with a small picnic basket in the corner makes the simple template a classic one. The template is designed in Ms Word and can be downloaded from here.

Picnic Agenda Template
A picnic can be said to be well organized if it is properly planned and well organized with perfect schedule of events that are going to be held in the picnic party. Our picnic agenda templates are specially designed to meet your needs and help you to get the assigned purpose done.
Picnic Flyer Template In MS Word
The template of the flyer is a simple one with two images and ample white space for the text. The text can be edited and to download the picnic flyer template click here. Don't forget to check for more info.
Labor Day Picnic Flyer Template 
The template is a simple with a picnic banner at the top in bright yellow and a family going out to enjoy picnic below on a light blue background. Download the template to customize the same from here.  Have more info about the template here.
Company Picnic Invitation Flyer Template 
The beautiful company picnic flyer template in Ms Word has a soothing combination of light blue, yellow and dark red to depict a sunny day and a picture of lemonade . Download the template here
Company Picnic Flyer
Are you planning for a corporate picnic and looking for a perfect and elegant picnic flyers to announce your company's picnic details!? Get professional looking flyer templates and various attractive designs from our wonderful set of ready-made and well-designed picnic flyer templates which anyone can edit, download and print for free.
Family Picnic Invitation Flyer Template 
The template is a sober one with red stripes on a white background and a good amount of white space for message. Customize the template in paint brush or photoshop after accessing it here.
Picnic poster templates
Plan your picnics as simple as possible and hassle-free with our great collection of picnic poster templates. From the posters all the guests can get the information regarding attending picnic. Poster idea is the best way to let all your friends and family members know about picnic details and block their calendars.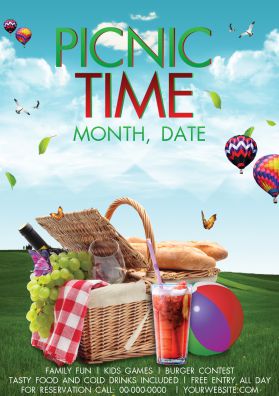 Easter Picnic Poster Template
Since the size of a poster sometimes not differ much from that of a flyer for sending an invitation for an easter picnic, the template is safely included here. Download the editable PSD template from here.  Have additional information from here.
4th Of July Picnic Flyer Template 
Created in Microsoft Power-point, the flyer template is a colorful one with a broad border, national flags and people enjoying. To download the feel good template, click here.  To have an additional info click here.
Picnic schedule template
A scheduled picnic gives you a magical experience in entertainment and enjoyment. Get free from your busy schedules in everyday life and fill some fun-filled and cherished moments to your life. To achieve your needs we have come up with a bouquet of amazing picnic schedule templates in various designs.
Hope, the list of 15 unique picnic flyer templates will help you to send invitations to your loved ones just by a little bit of customization. Although, there seems many free picnic flyer templates in psd over the web, the links are mostly broken. Hence, we have tried our best to compile the list covering all formats like ms word, ms power-point, Photoshop, etc. If you know some others, please add then in the comment box given below.