Free printable Christmas party invitations templates are the best way to invite your loved ones and friends to your event.  You may prefer to use DIY Christmas Invitations to give a personalized message the way that you want it.
To create a best looking Christmas Invitation, you should have basic knowledge of a couple of software such as Microsoft Word, Photoshop or Illustrator. If you don't have access to these soft wares or simply don't have time to do it yourself, you can choose to select our collection of free printable holiday invitations to choose your favorite template. We have created best designs suitable for every need which includes New Year, Christmas, Corporate Party and Other Christmas-related events.
Therefore, if you are looking for some attractive free Christmas flyer templates to promote your Christmas event or party or any other thing, we have the best collection for you.
Christmas Party Invitation Template
The flyer is an attractive one with a beautiful illustration of Santa arriving on his sled with reindeer and a couple of decorative items on lush green grass. It has a bright red banner with a header in the middle. Overall, it captures the essence of the festive mood of Christmas and perfect for promoting your Christmas party.

Christmas Tree Invitation Template
An image of a decorative Christmas tree with a backdrop of blue sky and white snow is indeed charming in the flyer. It also features a small illustration of Santa in the right-bottom and a red column on the right. As an invitation to a Pre-Christmas party, this looks adorable.

Christmas Party Invitation With Santa Claus
The flyer has a good color contrast of red and black that never fails to attract others. Moreover, it also has an image of a large red colored heart and a column on the right that makes it all the more beautiful. The text is in white and yes, there is an image of Santa too!

New Year Event Invitation Template – Red Theme
The two-column design of the template with illustrations of Christmas ball ornaments in white looks elegant and at the same time a perfect one to promote your new year's event that follows the day of Christmas. The template has a color scheme of bright red and orange.

Christmas Flyer Template Word
The elegance of gray and white are undeniable. The Christmas flyer with an illustration of a Christmas tree decorated with a star in white is the most prominent feature of the flyer. The text is also in white on a light colored background.

More Holiday Invitation Templates in PSD & WORD Formats
Blue Themed New Year Event Invitation
The flyer is in blue with a cute illustration of Santa in a joyous mood and a box with a white border. The text details about the New Year event are all in the box in white and dark blue.

Office Christmas Party Flyer PSD
The beautiful flyer features two tables in bright red on a white embossed background and has a bright red footer too. The text is in white, and one of the tables has an illustration of Christmas tree.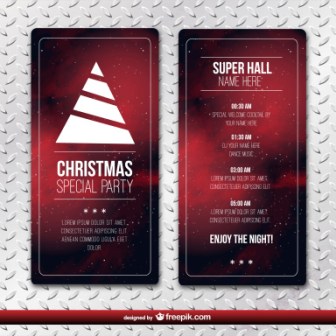 Christmas Tree With Cute Girl Decoration Template
The PSD flyer is an eye-catching one with an impressive image of a girl dressed as Santa in red and white. The surrounding green leaves and the Christmas ball ornaments in bright yellow and red make this a must pick for promoting your nightclub during Christmas.

Christmas Decoration – Invitation Template
The flyer in red with beautiful Christmas ball ornaments and text in white is a striking one to help your Christmas party. This one also features all the elements of the festival i.e. a decorated Christmas tree with twinkling stars, Santa, and a snowman.

Annual Holiday Theme – Invitation Template
Christmas bells ring and make everyone joyous! The flyer features a pair of these golden bells with a red bow, and a cute image of Santa is an awesome one to catch the attention of all. The remaining part is in a light color and offers plenty of space to include text.

Blue Background & Snowflakes
This blue color flyer adorned with gloves, Christmas cap, Christmas tree and likewise all the elements associated with Christmas with a line of white trees and a small reindeer is indeed a classic one to have as your flyer. It has text in white to build the right contrast.

Square Postcard for Holiday
If you are looking for a sophisticated Christmas flyer with no frills, pick the below one with multiple Christmas decorative balls in golden and white on a green background. The green leaves around these balls make this template an eye-catching one.

Christmas Dinner Party Invitation
The model features two hanging Christmas ornamental balls in contrasting colors i.e. red and yellow on a pristine white background. It has its text in bright red and green with plenty of greenery adorned with twinkling stars!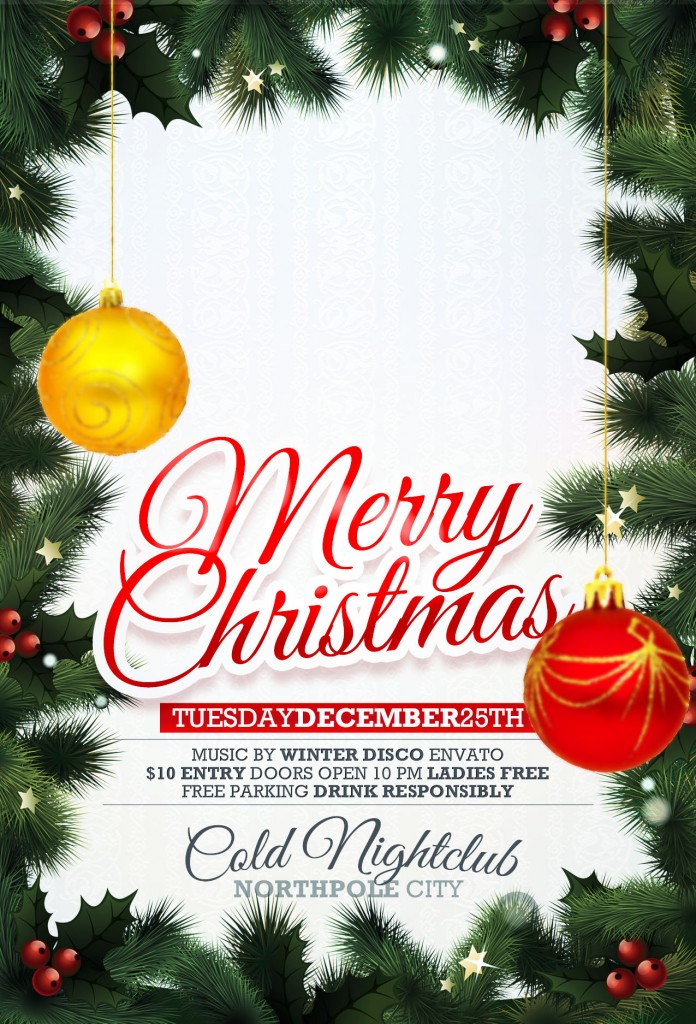 Happy Holidays Postcard
If you want to wish happy Christmas holidays to your target customers, just customize the astonishing flyer with loads of gift boxes on an impressive red background.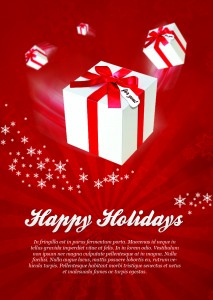 Christmas Flyer Backgrounds Free – Christmas Tree
The no frill flyer features a decorative Christmas tree on a white background. Add a border, a text, and your Christmas brochure will become ready!

Christmas Dinner & Cocktail Party Invite
Red and green in a combination never fails to weave a magic. The flyer with an impressive red background has some beautiful Christmas ball ornaments and a bright green banner. The use of white for text and some of the ball ornaments has made the flyer an eye-catching one for a Christmas party.

Christmas Icons Template
The flyer is in blue and has text in yellow and white. It features multiple small-sized images of some elements that are associated with the Christmas celebration such as a pair of bells, a Christmas tree, Santa, snowman, and much more.

Merry Christmas – Santa Claus Postcard
Plenty of bright red and light blue color on a white background makes this flyer an attention grabbing one. It features a large image of Santa, a smiling reindeer, and other images amidst a blue backdrop. The text is in white on the red banner with a splash of green.

Please share with us your thoughts about our collection of Christmas Flyers. You can download these quickly and customize using your computer software.