I am sure you will agree with me that our princess deserves a celebration on her birthday. Let her have all the fun. All of us were once a princess and loved parties.
So you want to give all the fun to your princess?
Begin the cheer with these delightful Princess Birthday Party Invitation Templates. Make your little princess special day glamorous.
Free Princess Birthday Party Invitation Templates
Imagine what it would be like when you select the best Princess birthday invitations for your princess. Make her fly in the sky with all happiness.
These templates specially designed for your princess. Go ahead and print the Free Princess Invitation Templates and customize per your taste.




Princess Birthday Invitations Wordings
You feel you're banging your head against a wall to select the right wordings for your Princess birthday invitation. Hey! Come on we know you're feeling. Relax and take a look at these wordings and get inspired.


Multiply Your Joy With These Dozen Wordings
The King and the Queen invite with immense pleasure for Her Highness' birthday celebration as Princess _____ completes ___!
Hear you, hear you… Kindly increase our joy by joining our Princess Birthday party.
Our snowflake princess turns_______, and we look forward to your presence for witnessing all the fun.
We proudly invite you to the birthday celebration of our fairy princess, who can now fly with all her forest friends.
Confidence, belief, and fairy dust! Our sweet little Princess ______ turns ______! Join us the party and bless the little lady bug.
Be with her and glow the bulb of joy…it's a birthday party for our Princess ______, and we welcome you to join hands with us!
A Fairytale party for our Honey Princess, ____. Our Princess _____ turns __! Glean the party not to miss any fun.
Pumpkin Princess _____turns ___! Get along with us for a royal treat, loads of food for mind and body for everyone in the entire kingdom.
In the Pink Kingdome, we have twinkling stars and candies. Actually a birthday party for our bubbly Princess_____.
Get ready with your pumpkin carriages and drive to a day of all fun! Celebrate the birthday of our Princess_______ for she turns_______.
Can't imagine, out Royal Princess________turns_______, join us for all the cakes and ice creams.
Fly on your magic carpet to be with us on the birthday of our Princess_______







How Disney Princess Images (in Invitations) Impress the Kids?
Now you have the wordings for your Princess party invite. So what next? Again something bothers you. We understand, just proceed further and make your princess birthday more special.
Ask us how?

Increase Her Happiness 3x With Disney Princess Images
Disney Princess, crazy for our whole Princes's world.
Do I sound like Ariel? Am I bold like Mulan? I will follow my heart like Belle. Let me live my dreams like Rapunzel.
The entire little princess imagines like Disney Princess at some point in their childhood.
How about your child?
Do you think I'm exaggerating?
Certainly not, as you know that you dreamt about Disney Princess image in your childhood. Think about it.
You may be interested to see our Hello Kitty Invitations that are loved by our readers.


As kids, they love to have Disney Princess images printed not only in their dress, but also in their handkerchiefs, book labels, pillow covers, milk mug, food plate, and the list goes big.
Please her by selecting the Disney Images in Princess Birthday Invitation Templates.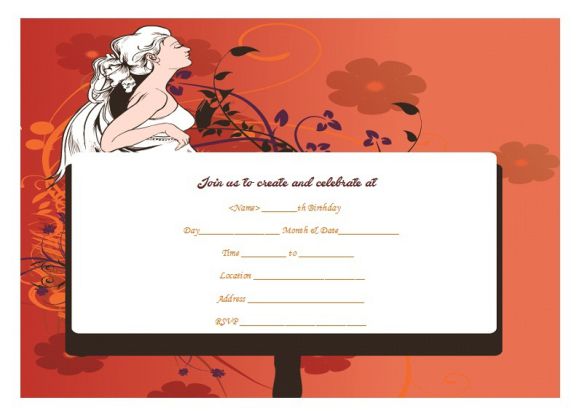 How to Use Princess Theme to Celebrate Your Kids Birthday?
Let's get to the point straight; we will now help you with the Princess theme that will take her to cloud nine on her birthday.
It's the special day of your little princess. No mom can resist planning the ideal birthday theme for the birthday bash. Every Mom knows that her Princess longs for their birthday party all through the year.
We are here to hear all the moms concerns and have listed the themes for your princess birthday bash.
Pink and Silver colors rule the Princess forever.


Invitations
Set the pitch for the birthday celebration with a beautiful Princess Gift Box invitation. Stuff a pink rectangle gift box with a crown wrapped in pink tulle and keep the message on top.
Don't forget to print the letter using an italic font published in the pink paper. Paste stars in silver color that adds glitter to the invitation.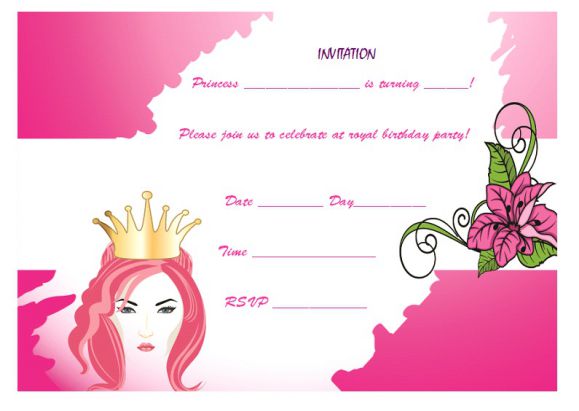 Decorations
Welcome, all with a pink carpet printed with Disney Princess images. The little girls will flow like water into your house and greet your princess.
Arrange the table with pink tulle fabric. Silver napkins and cutlery will match your Princess's party theme. Attract the kids with teacups and plastic wine glasses to drink their hot chocolate and juices. A cupcake holder gives that final touch to the table.
A birthday party without Balloons? No way, blow all the Silver and Pink balloons that make your party room a paradise for kids.
If you are sure about the guest, then go ahead and arrange the table with their names written in the tables. Kids will float in the air for this royal treatment.

Serve the Best Food and Increase Their Joy Multi-fold
Prepare mini food and serve on big platters, your princess will get that majestic atmosphere.
Food that kids love includes, Princess birthday cake with Disney Princess images, Cupcakes, Ice cream cakes, Star or Kiss or Flower biscuits, Swirly sandwiches, Mini hot dogs, sausage rolls made at home.
Make all your guest flat with this menu.
Princess Birthday Party Theme Does Not End Without Games
You can think of creative games to engage the kids in the party.
Adorn each princess with a gift and take a photo.
Treasure hunt, the game loved by a kid at all ages.
Freeze game- Let the princess dance to the music and stop the music to make them statues in their dancing postures.
Pass the secret, Chinese whisper makes the event memorable.
Let them decorate the cupcakes and express their creativity.
Have someone and pamper the kids with tattoos and paintings.
Award the princess with a crown and announce the winner.
Return Gifts
What's the magic formula? The return gifts! Apart from the usual coloring books, paint sets, candies, toys, and others, here we have listed the unique ten gifts to boost the kid's joy in the party.
Planting Kit
Quilling tools
Foldable water bottles
Kids Magnets
Bubble game
Kaleidoscope
Glow in the dark stars
Umbrellas
Magnifying Glass
Goggles
Princess Theme for Baby Shower
Respect the mother-to-be with a gleam, glam and a dart of erudition!
A personal touch creates the magical effect of making a baby shower into a grand affair. To make a majestic bang, blend and match ornamental twangs like stylish princess-themed glittering treats, light tulle and billowy decorations.
Get inspired with the pink and gold celebration to make the princess baby shower that shines with opulence!
5 Secrets to Double Your Happiness in the Princess Baby Shower
Prepare advice cards on a lighter note for a baby shower activity and collect inputs from the entire guest.
Create a ceremonial environment with a wall-hanging of gold and pink!
Construct towers of take-home assets for your guests!
Attractive Bow Tiara Princess Baby Shower Theme, hall decorated with Tiara princes'
Forest animal including Deer and Elephant makes the theme for Princess baby shower the best.
Ideas to Invite Kid's Friends Differently
Are you tired of the usual invite method for your princess birthday? Don't feel so, for we have come up with some unique ideas to invite your kid's friends for her birthday party in a different way.
Walk to your princes' school and talk to your child's friends about the party and invite them to join the party.
Place the birthday invitation in their play areas and ask them to hunt for that. It's a fun way; once they find the letter tell them that they are invited.
Send them a message on their parent's phone and say that you would be privileged to have them in your princess birthday party.
Gift your kid's friends a T-shirt with birthday party invitation printed. Delight them to come for the party.
With the party details engraved, blow up the ball then shrink and send to your kid's friends.
Print the birthday party details on big labels and stick them on the candy bars you give to the kids.
It's that simple. Get going.
Kid's Birthday Party Ideas
While you want to give the best to you princess on her birthday, then try one of the party ideas. The theme you can refer on top of this page. That order remains the same. Just relax and choose one of the ways given below as every year your kid loves to make the difference in her birthday party.
Circle Party Invite kids and let them make a circle. Polka dot being their dressing theme. Cut the cake and have fun in the circle.
Party Indoor Organise indoor games including dancing, musical chair. Allow kids have all fun. Let them have a sleepover. Play at your place, retiring with a movie. Let them make their cakes. Party inside motivates them to learn and have fun.
Fun party at the lawn The garden party carries value due to the green atmosphere. Passing the parcel the quick game during the birthday party. Serve food and teach them to eat while standing on the lawn.
Messy party Provide them with colors, ask them to paint and no room for cleanliness the moment they start painting. Color everywhere. Add more mess to the party by playing the cake facial game as well.
Rainbow Party This idea you can use it for indoor or outdoor. Kids get attracted by colors. Decorate the venue with spectrum colors. Order multicolored cake. Have a colorful birthday bash.
It sounds simple. And it is.
Start planning your princess birthday. Visit us year after year for templates and innovative ideas for that special day.