Creating birthday invitation cards can be a herculean one, especially if the guest list is quite long. However, now you can very well choose from a range of birthday invitation templates that are available for free over the web and can be downloaded. These templates can be customized as per the desire and text can be added or edited easily. Let's have a look at 50 such stunning free birthday invitation templates that you are sure going to love.
1. Birthday Invitation Card Template V1.1
Designed in pretty colors, the template is lovely and appropriate for birthday invitation of a little girl.
Get the template from here for free.
#1 Recommended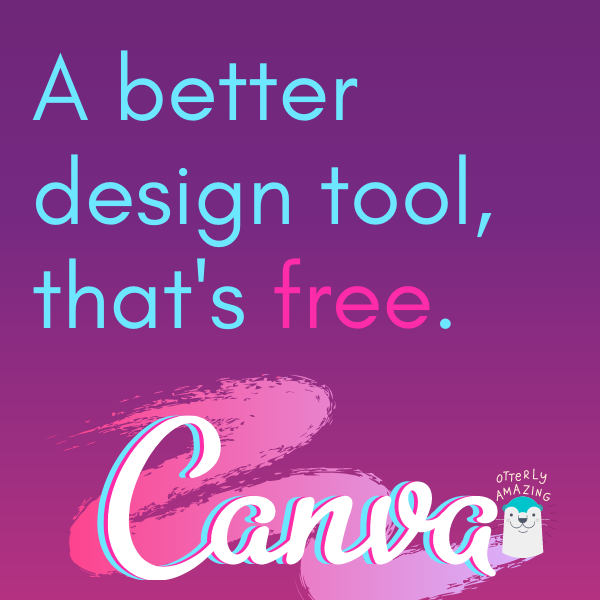 See also : 30 Attractive Free Hello Kitty Invitations that You Will Love to Use
2. Printable Birthday Invitation Colorful Fish
The template is fully editable i.e text can be changed. There is also option to change the font color, type, size, etc to give it the desired look. The template can be accessed from here .
3. Printable Birthday Invitation-Celebrate with us
With multiple multi-colored balloons, the template is a rocking one to invite your friends. As before, the text can be edited. So, edit the text as desired and then download or print the template from here.
4. Printable Birthday Invitation-You are invited
If you desire a template that truly reflects the mood of a birthday party, then nothing can be more appropriate that this colorful template with loads of gifts and decor. Get this fully customizable template for free.
5. Printable Birthday Invitation-Birthday Decorations
With a metallic background and text on a light golden base, the free template is attractive and suitable to become a birthday invitation of teenagers and adults alike. Access the beautiful template at this site
6. Printable Birthday Invitation-Celebrating First Birthday
If you are looking for a birthday template for your little one who just now is turning one, then check out the awesome editable template here.
Birthday invitation template
Organizing birthday parties involves a lot of fun. Yes, off course, it has a lot to do with planning and management too. Right from selecting a dress for the birthday boy or girl to making an order for the birthday cake and decoration items, parents work really hard to organize a successful birthday party. If you are planning a birthday, one of the most interesting aspects is creating a birthday invitation to invite all friends and loved ones. It should be informative and at the same time should be eye-catchy to attract the attention of everyone. While you can be very creative while designing such cards for your kids, designing the same for elders demand some sophistication in terms of color choice and font type. Today, most people take the help of computer to design a birthday invitation card. However, the good thing is that you can take an inspiration from the ready-made birthday invitation templates also that are available over the web. Here, we are presenting a fascinating collection of birthday invitation templates that you can download and use with a little customization.
7. Free Printable Cars Birthday Party Invitation
Get a high resolution JPEG image as birtday invitation template with a massive red car on a blue background. Ideal template for your boy. Download it now.
8. Surprise Birthday Invitation Template
The small sized birthday invitation template features two kids, one holding a massive pink cake and other sitting on a chair with gifts.
Download this Surprise Birthday Invitation Template from here:
[wpdm_package id='9281′]
9. Interesting Pool Party Birthday Invitation
The birthday invitation flyer template has an impressive broad border  featuring bright red and blue balloons. With loads of gifts in the bottom, the interesting template can be downloaded from  here.
10. Bat Man Birthday Party Template 
Have the extremely bright  birthday party invitation template of bat man theme for your little boy and sure the invitation will be loved by his friends too. To download the vibrant template in blue, yellow and black, click here.
11. Party CupCakes
With a range of yummy cup cakes and an image of your little angel or prince, the template is suitable for everyone. Customize this beautiful template at http://www.celebrations.com/gallery/design/party-cupcakes.
12. Cute Fairy Birthday Invitation Template  
With a light green background and a cute fairy with her magical stick,the template is designed keeping in mind the little princess of your home. Have an access to this template from here.
13. Pokemon Birthday Party Invitation
The template is filled with colorful pokemons in a backdrop of a rainbow! You need to add the text regarding name, venue , etc as these are all left blank. Download this eye-candy from here and print it to use immediately.
14. Pokemon Birthday Invitation Template
What can be more suitable as a birthday invitation card if the birthday theme is pokemon?To download the template for free click here.
15. 16th Birthday Invitation Template
A template for the birthday invitation if your little girl going to turn 16! This one is bright with a big orange-yellow colored star on a purple base. Download the template and get it printed soon.
[wpdm_package id='9285′]
16. Hello Kitty Free Birthday Template
The template is one of our huge collection of hello kitty birthday invitations. It features a cute kitty and has a feminine pink background. Access the template from here.
17. 1st Birthday Party Invite Template
If bright colors are not your preferred ones, then the template can be the most suitable one for your little one who is going to turn one soon!. Download the elegant template now and be the best host.
18. Baby Girl's 1st Birthday Invitation
The template as suggested is for a baby girl who is turning one and is pleasant to eyes with a clean design. Just download the template and end your search here.
19. Boy Birthday Invitation Template
Get the massive birthday invitation template of 22×22 inches with colorful design. The template has ample space to write the message also. Get the awesome template here.
20. Lady Bug Boy 1St Birthday Invitation
The printable template is also large in print size and has a flowery border on a light blue background dotted with heart shape. Get the printable template here.
21. Mickey Mouse Free Printable Invitation Template
What can be more exciting for kids than a mickey mouse inviting them to their friend's birthday party. Get the clean template with a mickey mouse on a white background here.
22. Robot Print Me Birthday Party Invitation For Boys
The template features a blue background and a prominent white robot on it inviting guests for an amazing party. Download the unique template from this link and have fun.
23. 50th Birthday Invitation Template
Want a small invitation card for the guests? Have this template designed elegantly with colorful balloons to revive the forgotten childhood days. Get the 50th birthday template here.
24. 30th Birthday Invitation Template
The template is in pdf format and can be downloaded or printed for use. With a small cupcake with a candle, the template is simple. To get cute template click here.
25. Heraldic Design
With a heraldic theme with ribbons and swords, the blue template looks awesome for a boys birthday invitation. The template is in word format, editable and can be downloaded in a hassle free manner.
26. Princes Birthday Invite Template
Download the beautiful girly template with an abundance of pink as birthday invitation template and fill out the text. The template in its original size is available here.
27. Birthday Balloons
The pdf template with balloons in subtle colors is ideal for a 30th birthday invitation. The text can be edited in Acrobat reader and then can be printed on a 6×4 inches paper. Get the free template here.
28. Girls' Just Wanna Have Fun
The cool template in soothing colors with multiple stars and a nice border is great for a birthday invitation of your cute little angle. Get the template for free by saving the image on your desktop.
29. Choo-Choo Train on white background
The template is great for inviting kids to a birthday party with a clean design featuring a colorful toy train on a white background. You need to fill the text. Get the template here.
30. Barbie Birthday Free Template
The cute pink template has a barbie theme and can be can be printed on a 4×5.5 inches paper conveniently. Save the elegant template now from the link and get it print!
31. Pirate Birthday Invitation
Get the blue colored template of approximately 4×6 inches with a pirate theme ans space to insert the birthday boy or girl's image. The template is editable in microsoft powerpoint and is available here.
32. Table Top Birthday Party Invitation
If you are looking for a sophisticated kind of template then this may be an ideal pick with a cup of coffee, a beautiful flower vase on a colorful table cloth and the invitation itself. Just click the link and select download for further customization.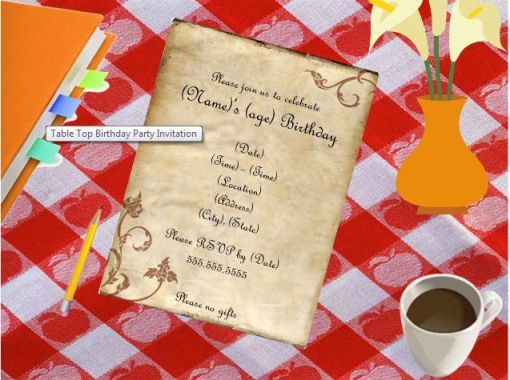 33. Rock Star Birthday Party Invitation For Boy
With an image size of 10×6 inches, the template features a cute boy holding a transistor. The text can be customized as per your wish.Download the template here to rock the party!
34. Moon And Star Sky Birthday Invitation
Get moon, stars, sun, cloud and what's not on your birthday invitation template and gear up for a fabulous start for the birthday preparations. Get the editable template here and get it printed.
35. Colorful Circles Birthday Party Invitation
The template is ideal for grown ups as the color scheme is sophisticated with a dark black background and four circles in subtle colors in the right hand side. The template can be easily accessed from here.
36. Freebie Bee Party Invitation
The blue template with white podka dots is a sheer delight for kids as a birthday invitation. The template also has colorful flower and a cute bee.You need to fill the text yourself. To get the lovely template, click here.
37. Free Printable Cookie Monster Birthday Invitation
If you have Adobe Photoshop installed in your computer, this can be a great template for birthday invitation with a huge blue cookie monster and colorful stripes at the top. Download the editable template here.
38. Girl Printable Birthday Party Invitation
The template featuring a garden background and a cute girl is perfect for a girl's birthday invitation. The template also boasts of a colorful border of a bunch of flowers. Download the lovely template and fill the text.
[wpdm_package id='9304′]
39. Cupcake Printable Birthday Party Invitation
A yummy cup cake with cream and a candle amidst a blue backdrop sets the perfect premise of a birthday. The template is elegant and is suitable for both kids and adults. Download the template here.
40. Pink Barbie Birthday Party Invitation
If your daughter is fond of Barbie or is a Barbie doll for you, just download the very girly birthday invitation template and fill out the details.
Get this awesome template here.
[wpdm_package id='9275′]
41. Aristocats Printable Birthday Party Invitation
Three cute cats going mischevious on a pink background is impressive as a birthday invitation template of small kids. Click here to make the template your own.
42. Pink Balloon Birthday Party Invitation
The template is in pdf and a rather simple one with colorful balloons on a white base. Download the beautiful template here.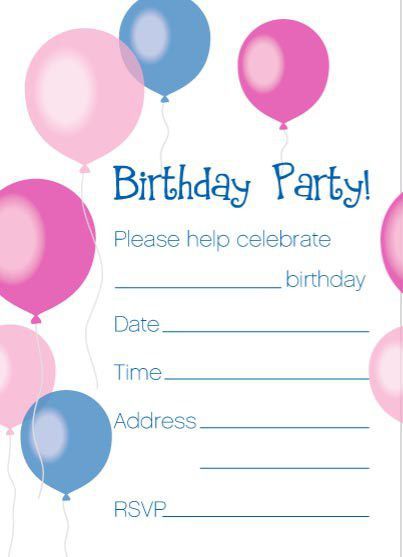 43. Red and Blue Dotty Birthday Party Invitation
What can be nicer than red and blue circles on a white backround and blue text ?Just get it printed and fill the details. To download the same, click here.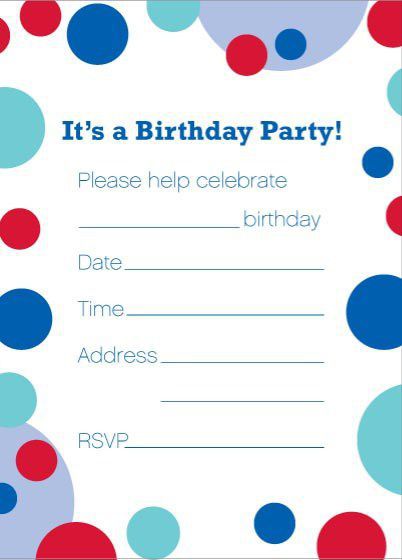 44. Teen Birthday Invitation Template 
With an animal print border in white and black, the template also has a dash of pink. Download the template here.
45. Cute Cat Printable Birthday Invitation Template
With a bright yellow background filled with multi-colored balloons and a cute cat with a birthday cap in celebration mood, the template is just perfect for invitation for little ones.
Download the template here.
[wpdm_package id='9298′]
46. Birthday Dinner Party Invitation Template
The template is an elegant one with a wide purple border, two decorated cakes with candles and multiple little flowers here and there. Get the dinner party birthday invitation template for adults from here.
[wpdm_package id='9300′]
47. Free Printable 50th Birthday Party Invitation Template
If you are looking a simple template for inviting your friends and relatives on your 50th birthday, then just get access to the template featuring a bottle of scotch and a glass from here.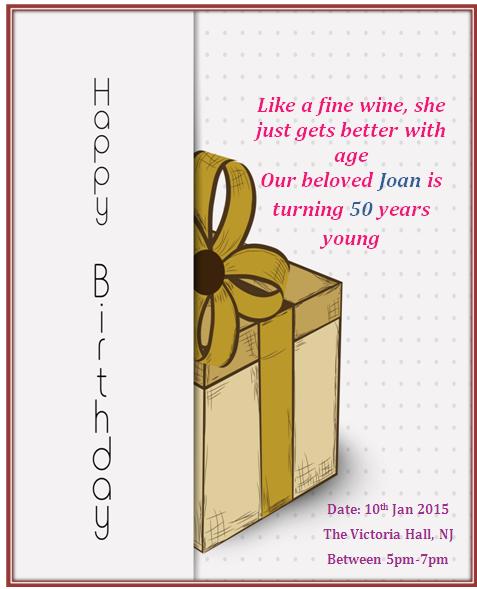 48. 13th Birthday Invitation Template
Balloons, cakes, candles all designed carefully forms the best invitation for the 13th birthday celebration. Download the template and make it yours.
[wpdm_package id='9302′]
49. Birthday Party Invitation Template For Kids
The template feature disney characters in a joyous mood with plenty of gifts around and a decorated cake. Just right –click and save the word document from here or open in word to decorate more.
50. Carnival Birthday Invitation Template
The last one is a beautiful template suitable for carnival birthday invitation with soothing colors. To get the same, right click here.
Birthday parties are significant to both children and adults and we hope that the above mentioned templates can be a great help to you as you don't need to design an invitation. Just simply download , customize if needed, get it printed and voila ! The invitation is ready to sent!
Yes, I have given many free printable birthday party invitations. Whether you want free birthday invitation cards for your 1-year-old baby, free birthday invitation templates for inviting your friends for your father's 50th birthday, or create your invitations, just relax and read my article.
You will find all details under one roof including free printable birthday invitations for kids, free birthday invitation templates for adults, birthday invitation wordings, tips to create birthday invitation card with photo. Also, birthday invitation themes for Boys and Girls, Ideas to celebrate your kids birthday, plans to prepare food on the anniversary, and much more.
Read the details on your move and feel free to print any birthday invitation card. I also welcome the birthday party event planners to take inputs from my site to provide free online birthday invitations to your customers along with your add-on services.
OK, I understand that you are eagerly waiting to know all details. Let's jump right in and prepare for a birthday invitation message.


Basic Details included in Birthday Invitation
When you want to write a letter to invite a friend to a birthday party, you do that with an appealing first birthday invitation card.   And you know what? You need to understand the essential details required to customize the card.


Listed the details below, for your reference
The name of the person, either the kid or an adult for whom you are making the birthday invitation. Find my way of writing; I proudly invite you to Ajay's 7th birthday party. Please join us to make the show a grand celebration.
Then mention the date on which you are planning to celebrate the birthday. Write the day and date to avoid confusions if any.
Next, comes the time. Time takes equal importance as the date to let know your guest to be on time.
Where is it happening? You have written for whom, date, and time. Good job, but, what next? Give the address details of the venue. Include the clear directions.
RSVP, becoming very important these days. As we need to plan for the cake, food, and gift item. Do we need to know how many will attend the celebration?  Include RSVP and make sure it is legible for your guest to understand it and fill the same.
Post any additional Inputs required like the theme of the party, dress code if any, the color of the dress, etc. based on your plan.



Birthday invitations wording
Kindly bear with me, as I'm going to show you how to write funny birthday invitation wording for kids, funny birthday invitation wording for adults, and formal birthday invitation wording.
You have written all the usual details. Now it's time to frame your own words to invite your family and friends. Inspire from the following phrases.
You can write these wordings either in your invitation to customize or in your SMS/Whatsapp/Email to invite.
Come to our place for fun. We want you to be with us for celebrating the birthday of our little angel who is turning four on 4th
Wow, it's a fun time, a special treat, Our son will cut the cake, and we all can eat and dance with joy. Please join the party and bless the naughty little
Lift your glass; it's time to say cheers; My birthday has come before I could realize that I am 18. It's my pleasure to have you with me on a magical day.
Join us to celebrate the birthday of one brilliant man, Yes, it's a surprise party, don't shout loud until the 26th September comes for greeting DAD Happy Birthday.
Before we could get out of the joy of his birth, he's grown; our baby boy will complete One on 15th Come and help to accept reality and celebrate the special day.


Inviting all cowboys, spurs, Saddle up to come and celebrate our buckaroo, Mark is turning TWO!
Would he be a cricketer or a spaceman? It's still a secret, but we know it is his birthday. Join hands to cheer him,
I am growing old, yes I am 50 this August 31st. Come to share my joy.
It is indeed fun to grow; I trouble my parents in this process, I am 16 and want you to wish me Happy Birthday and wish my parents Best of luck to deal with me.
Congratulate MOM for challenging life and always winning, inviting you to wish her Happy Birthday on 4th Aug for on the same day she landed on earth 70 years back.


Say no to toys and yes to all the beauty products, yes I am 18, and I am going to college. Join me for my birthday party.
We are glad that he is 21 years old and want to have a cocktail party on his birthday. Bring your glasses to drink with him.
My husband's 1st birthday, surprising? Yes, after he married me he is celebrating his birthday on 21st Nov, join me to appreciate the brave man for handling a tough lady in his life.
Celebrating life! 6 decades is just not a joke! Dad sailed through all difficult time with a smile on his face. Come and get his blessings on his birthday.
My grandma is 80, but for the wrinkles, in her face, she is strong in her heart. Join the celebration and seek blessings from that iron lady.
Make use of these wordings by including the details you want to. Use these wordings for 1st, 5th, 16th, 18th, 21st, 30th, 50th, 60th, or 80th. Trust, I have given a sample for all.
Enlightened with the wordings? Don't as you have more to go. Just check this.


How to Design your Birthday Invitations?
I am sure you like my free printable invitations. Download and use it. If you wish to create your birthday invitations, then I will guide you the way.
You will find many free printable invitation makers across the web. Even many invitation maker apps are becoming popular.


Tips to design your Birthday invitation
If you know little graphics and illustrations, then you can do wonders with your invitation. One best design that cannot be copied by anyone else?
And guess what? Yes, you're right, the birthday baby's photo. Use my free birthday invitations templates with the option provided for you to include a photo. Simply download that and add the photo. Am I correct?  Design your exclusive free birthday invitations with the picture.
Cute, isn't it?
Now photo included next need to print the invitation card template. Use a high-quality printing paper and give a professional look for your kids birthday invitations.
Sounds easy enough, but the final touch to highlight your design becomes necessary.  Use appropriate envelope, seal it with a themed sticker to let your guest do the guesswork.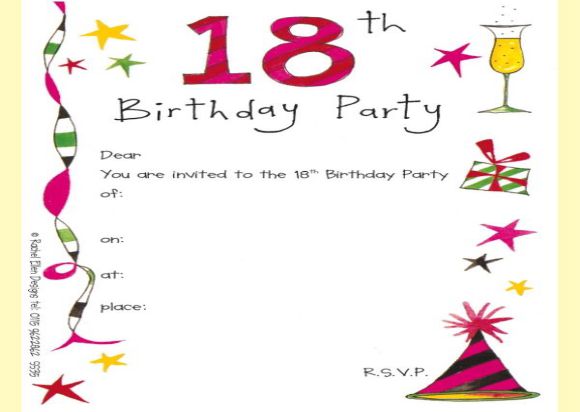 Birthday Invitation Themes
When you want to give your best to your kid, dad, mom, spouse, or yourself, theme plays a significant role. A birthday party without a theme makes the event dull. To begin with let me list down Birthday invitation themes.
Design invitation in such that it conveys your theme to the guest invited. Let them come prepared to compliment you for all your efforts.
I have managed to give you a list covering all age groups. Select free birthday invitation templates matching your theme and rock the show.
I have limited the unlimited items list with the best themes.




A to Z Birthday Themes
Art Party •Butterfly Party •Cheese and Wine Party
Dinosaur Party •Egyptian Party •Fairy: Glitter Fairy Princess
Grand Prix Race Car Party •Honey Bee Party •Insect/Bug Party
Jungle Party •Hello Kitty Party •Gardener Party
Mermaid •Olympic Party •Playtime Party
Rock Climbing Party •Sleepover Party •Teapot/Teacup Tea Party
Truck Party •Under the Sea Party •Vineyard Party
Water Park Party (sprinklers) •Wine Tasting Party •Zoo Party
It sounds simple. But it isn't. Ask me why? Because you must know how to fit these themes into?
I will help you on that.
Let me give you few examples, and then you will know it.


Vineyard Party: This theme aptly suits for age 60 and above birthday parties. As mature as a vine.
Sleepover Party: Ideal for the girls at the age of 18 and above. They always love to have that night fun with their girlfriends.
Rock Climbing Party: Best for the naughty boys and girls.
Mermaid Party: For the beautiful little princess.
Gardener Party: Suits the mom who loves her garden after her 60.
So by now, you are getting a grip on how to select a theme. Great! Keep going.


Birthday Milestone Party Invitations
Yes, you know that celebrating 1st Birthday is special, 5th Birthday again becomes unique because your little one starts going to school. 16th anniversary marks sweet sixteen with all teen challenges, deserves a party.
On the 18th Year something special, again for 21 you become a grad and so special for you. 30 years reminds you to become responsible. 40 years call you for watching and managing the same you in your kids.
At 50 running around to get your daughter married. And finally, it's time to retire from work when you're 60. After that every year you get as a bonus to live. So celebrate your life with your grandchildren. Then when you complete 80, you deserve applause for managing the show well all through your journey.
So what's the number this year? Every time you finish one decade you need to celebrate. That's all about milestones.
Do I mean to say you celebrate only the milestones I mentioned, certainly not, celebrate every year on your birthday for you are always special?
I have provided you with loads of options to use free printable birthday invitations across all ages.


Birthday Invitation DIY Ideas
You want me to give you ideas to make your birthday message? Here you go; I have revealed the secret behind the DIY.
You have a choice either to make an end to end birthday invitations or to use my free invitation templates and incorporate your DIY into it.
Make Origami art and express your entire creativeness.
Involve your little one with you while making your clay mold to stick it in the free invitations.
Ask your five years old kid to join you in making personalized cards with chart and paints.
At the age of ten kids old would love to make a PPT animation card. Just be with him/her to proudly invite your entire guest stating that your child made the card.
Go green DIY. Cards made out of old CD, Mosaic mirror card from old credit cards, flowers from newspapers all contributes to the go green DIY idea.
Think creative and do it yourself. Does it sound simple? Of course, it is.



Birthday Party Preparation
Let me walk you through the last area before I conclude my writing. Yes all about the checklist to conduct the birthday party smoothly. The well-planned event never fails. Print the checklist given below and use it.
One Month before birthday
Talk to all concerned people and decide on the theme.
Then narrow down on the activity choices and arrangement required.
Make sure on who needs to be part of the party.
Check for event organizers to send you necessary event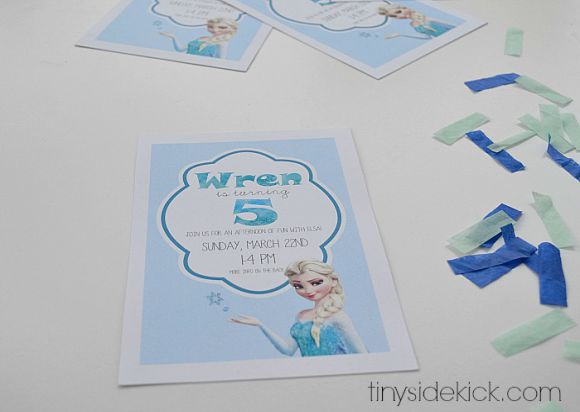 15 days before party
Confirm on the guest availability.
Print the birthday invitation template and send letters.
List down the activities for the birthday celebration.
Write down all that you'll need from cake to food.
Let me help you with the things that you'll need.
Art prerequisites, games material, tables and chairs, water coolers, serving plates, cups, plates, tablecloths, return gifts, goody bags.


Ten days before
It's time to plan for the food menu.
Prepare a simple food list to suit any theme. Preferably go for finger chips, pizza, refreshing drinks, popcorn, and cake.
Make a note of the groceries required.
Find out whom you need to help you before and during the party. Connect with friends, elder children, relatives, help manage activities.



Seven days before
Get your house cleaned.
If it is an outdoor party, then clean up your garden, pool,
Do a follow up on RSVP for that final
Conclude on the cooking schedule.
You can even prepare food that has long shelf life and freezes

Three days before
Order for cake.
If you are making on your own, then make and freeze it. Do the icing on the day before.
Order for balloons and poppers.
Buy all necessary supplies.


Two days before
Start decorating the hall.
Get the grocery shopping done.
Check your house for any attention required and make it safe for guest to arrive.
Keep your cameras charged and ready to shoot. Have sufficient memory cards/films
Prepare goody bags.


The day before
Arrange the furniture.
Set up the tables and activity areas.
Decorate! Decorate! And Decorate!
Finish icing your cake.
Dice your vegetables for salad, marinate, rinse lettuce and freeze them.
Do the final cleaning.


The Day has come
Complete all cooking.
Collect your cakes.
Arrange food on table an hour before guest turn up.
Assign responsibility to the stakeholders. Do not run everything on your head. Allow the fun to embrace you as well.
Just during the party
Make sure the birthday baby gets the first piece of cake.
Serve the cake to all guest.
Make a note of the gifts and the person who it.
Conduct games and events.
Have food and fun.
Give return gifts to your guest.


After a couple of days, send a thank you note to all your guest and people who helped you. The gesture of thanking will stand longer than the birthday celebration.
Finally, breathe with all happiness
So what does all this mean? You have a great birthday party to your entire guest and made the birthday baby feel proud of you.
Yes, I am happy to help you in this journey. Feel free to visit my site for any free printable birthday party invitations. Refer my site anytime to get to know the nook and corner of birthday celebration.
Steps to write a birthday invitation card
 Like everything, writing a birthday invitation card too involves some specific steps that make the task easier and less time-consuming. So, the steps are the following ones:
First think about the exact number of persons that you will invite in the birthday party
Buy the exact number of cards with a good paper quality from a stationary store
Pick colorful cards if the invitation for a kid's birthday party. If the party is for an adult's birthday party, settle for a less informal one. Take into consideration the gender of the person whose birthday you are going to celebrate.
If the chosen invitation card is simple in its appearance, add some decorative elements to make it attractive. Add images of colorful balloons or decorative banners on the card or draw the same. If you are choosing readymade templates, add the decorative elements via computer software
Next, write the details like name of the invitee, birthday boy or girl, complete address of the venue and timings. You can either write all the text in your own handwriting or choose word processing software to do the same as most templates available over the web are editable in Microsoft Word.
Don't forget to include the date on which the party will be hosted by you and yes, the dress code too (if any)
It is a good practice to write a nearby landmark in the invitation card so that your guests will face no inconvenience in reaching your place
Also, include a phone number that guests can use to inform you about the confirmation about their attending the party. It also proves helpful if they find any difficulty in finding the party venue. Using this contact number, they can contact you easily.
Nowadays, many people include an email address in the birthday invitation card as almost everyone now has an easy access to the web and has a proper email id.
Now the last step involves putting each of the cards in envelopes and sending them to the invitees via post.
In the 21st century, most people prefer sending such cards via an email which proves extremely cost-effective.
Budget friendly Birthday ideas to spice your kid's birthday party
Remember, when you were a kid and birthdays were mostly organized at home? The golden rule of organizing a budget friendly kid's party is organizing the same in your home only. Say no to professional birthday planners to save spending unnecessarily. Next, choose a theme as per the age of your kid. For example, for kids aged between 3-5 years, bugs, balloons, or butterflies are fine. Similarly, for kids aged between 6-8 years, princess, pirates, and harry potter themes are the best. Ditch the idea of buying readymade invitation cards from a store and create them at your home with glue, colors and some creative ideas. Invite only 10-12 kids. This is prevent overcrowding and will leave enough space for kids to play. Next, bake a cake at home and decorate the same with some icing sugar. Some of the food items that are perfect to serve to kids in a birthday party at home are the following ones:
Mini Hot Dogs
Pizza Pops with favorite toppings
Honey Joys
Potato Wedges
Mini Burgers
Spring Rolls
If you are organizing a kid's party in India, the food menu will differ vastly. In India, the idea food items in a birthday party can be the following ones:
Welcome drinks like mango juice or orange juice
Birthday cake pieces
Ice Cream
Spring Rolls
Pulav or Poori Sabzi
Desserts (can be made at home with readymade mix)
Also, decorate your home with colorful banners by cutting colorful paper with a pair of scissors and glue. If you can afford, place a balloon arch at the front door of your home as this will simply make your kid extremely happy! Finally, do not forget to remove all the toys that your kid will not share with others and all fragile items of your home in one corner.
Just like organizing a budget friendly kid's part, for an adult part too, it is best to cut the expenditure by baking a cake at home. Spend less on decoration and arrange the balloons on the wall at one place instead of hanging them around the house. Remember, the decoration for an adult birthday party must look sophisticated. You must choose a retro theme or a midnight in Paris theme that never goes wrong.