Whether you are launching a spelling bee contest or organizing one like last year, you need to send invitations to schools, parents, and others to make it a successful event. Consequently, you may think that having a template ready and sending the same to everyone via an email will serve your purpose. However, to make an impact, it is best to send colorful printed invitations to each of them. We know that while making all the preparations expecting you to invest time in designing invitations can be absolutely absurd.So, here we are presenting a small collection of spelling bee invitation templates that you will surely love.
You may be interested in :
21 Free Printable Spelling Bee Certificates: Participation, Winner, School Templates
Spelling Bee Invitation Template 1

The invitation although a simple one attracts the eyes due to its bright red border that has rounded curves at the four corners. Moreover, with text included in absolute clarity on a white background, the invitation seems just perfect.
Spelling Bee Invitation Template 2

Floating green leaves are seldom seen on an invitation but the above one is an exception. Studded with multiple circles of various sizes and leaves, the blue-white invitation looks pretty and apt for attracting all. The orange-brown bees and the bright red header are also added attractions of the invitation.
Spelling Bee Invitation Template 3

The invitation features a decent design with small vertical lines of contrasting colors at the top and bottom. The use of dark chocolate colored border around a white background and pretty illustrations of bees add charm to the invitation.
Spelling Bee Invitation Template 4

The most prominent feature of the above invitation is the cute bee with green wings! However, the floral design as a watermark at one corner and the use of bright red and purple simply makes it awesome.
Spelling Bee Invitation Template 5

The invitation features vertical lines in green and blue to its left and vertical lines of red and yellow to its right as a border. With the use of additional design elements and cute illustrations, this looks like an absolute winner in grabbing all eyeballs.
Spelling Bee Invitation Template 6

With splashes of colors here and there as a watermark on a white background, the certificate also features bees with blue wings and the text in various attractive colors. However, it is the black border at a little space from the white edges that makes it quite different from others.
Spelling Bee Invitation Template 7

The invitation has text in bright red and brown that appear extremely prominent on a white background having numerous alphabets in capital letters as the watermark. The humming bees and the sleek border made it all the more appealing.
Spelling Bee Invitation Template 8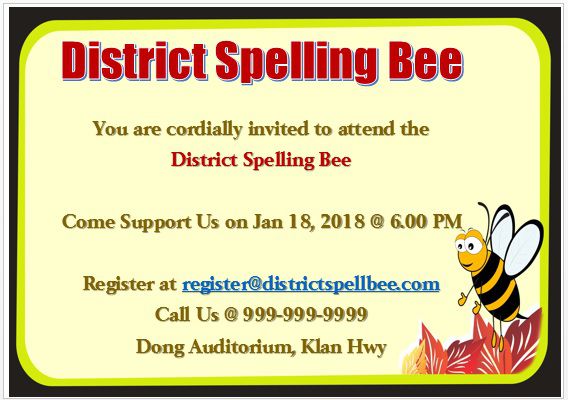 The double border in black and green look mesmerizing on a light yellow background.The illustration of a bee with blue wings and dried leaves at the bottom corner and bright red for the header are the best features of this invitation.
Spelling Bee Invitation Template 9

The invitation features an illustration of a flying bee with golden wings inside a circle to the left side of the design layout. However, the most attractive feature about the invitation is its blue and pink border on a white background. that also has text in black and sky blue.
Spelling Bee Invitation Template 10

The gray colored invitation has a bright orange colored border with rounded curves. The use of countless colorful bees as a watermark and bright colors for the header makes it quite charming. The rest of the text is in brown.
Spelling Bee Invitation Template 11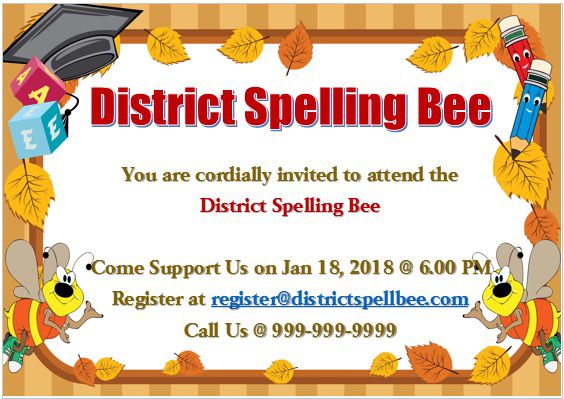 With numerous illustrations around the white text box, the invitation seems apt to invite small kids. The use of bright orange, brown and yellow in the color scheme added more weight to this belief. While the header is here in large font size in dark red, the email address for registration is in contrasting blue.
Spelling Bee Invitation Template 12

The color scheme of the invitation consists of mainly two colors i.e. green and white. The slim green border and the bright red header makes a perfect combo to catch the attention of its audience.
Spelling Bee Invitation Template 13

What can be more fun than bees inviting you themselves in a spelling bee contest? The bees are, however, here portrayed with a twist i.e. yellow face, orange striped body and green colored pants at both sides of the text. The blocks of alphabets scattered at the bottom and the use of multiple colors for text also makes it an endearing one.
Spelling Bee Invitation Template 14

The invitation is splashed with every best-known color i.e. blue, red, green, and more. However, the most eye-catching element in its design is the use of pencil colors at the corners and kids wearing blue dresses at the bottom.
Spelling Bee Invitation Template 15

The best part of the invitation is the so non-conventional border which is sometimes yellow and sometimes green or both.The use of multiple colors like orange, yellow, green, red and brown have further enhanced its entire look.Yes, not to forget the smiling bees that are sure to steal your heart!
Benefits of participation in a spelling bee contest
Kids will see a visible improvement in their vocabularies
Will learn the need of reading and writing with utmost attention
Generates interest in learning that helps immensely to score good grades in school and competitive exams
Will learn how to interact with other kids on a given platform
Will learn sportsmanship, a crucial survival skill in the 21st century
Will develop confidence to communicate and engage with other children
Will improve the public-speaking skills that can aid in coming life
Can get a chance to win scholarships that will make them feel proud
Please spare some time to write your feedback to us. Your feedback is really valuable for our team to improve.Remember organizing a spelling bee contest for kids and inviting them can offer multiple benefits to the kids.