Hello everybody! I am back again and this time too, I have an interesting topic for you and it is coming soon flyers. Does this sound interesting? Indeed, this is an interesting topic and useful for you if you are looking for an inexpensive tool to promote your business. So, what exactly is a coming soon flyer? Let me explain the same to you.
What are coming soon flyers?
I am sure that you must have come across some wonderful flyers. The coming soon flyers are also a type of flyers that apart from promoting your business create a lot of interest or excitement for events that you are going to organize in anytime soon. These flyers are usually designed by professionals who are experienced with designing tools. For example, a coming soon flyer can be for the grand opening of your new jewelry store or a restaurant that you are going to start soon.
Yes, I completely agree that if you have a small business, it may seem impossible to hire a professional designer to get an eye-catching coming soon flyer. So, I am here for you to help by providing you beautiful coming soon flyer templates.
Top 7 ideas of coming soon flyers
Well, I know that by merely stating about coming soon flyers, you will experience a little difficulty in understanding the overall concept of these immensely beneficial flyers. So, I am going to give you top 7 ideas where you can use these flyers to reap maximum benefits. So, here we go!

Daycare coming soon flyer
Starting a daycare business is an excellent idea as most people now have nuclear families. They look forward to finding such services where they could be assured of the safety and well-being of their kids while they are away at work. For a daycare coming soon flyer, you can use some bright colors and images of kids either writing or painting to make it attractive.
In a daycare coming soon flyer, the practice is to always include the daycare timings in a major way and the amenities that it has to offer to the kids like air-conditioned or CCTV monitored rooms, availability of swings and other items, qualified staff, creative activities, First aid or doctor-on call facility. Use contrasting colors that could make it appealing and grab all eye-balls even before the official opening of your daycare facility.


Grand opening of new store flyer
Creating a flyer when you are going to open a new store within a few weeks can assure that your store will witness a good footfall. While there is no need to include an image of your new store, including images like a scissor cutting a red ribbon or something other that can suggest about a new store going to open soon is perfect. Yes, equally important is to include the store timings and its location in a readable font size. Its design also largely depends on the kind of store you are opening in near future like a jewelry store, a retail store, auto repair store, and so on.
If you have still any doubt, try to use our ready-made grand opening of new store flyers without spending a single penny. Yes, I am not kidding. Not only the above flyer, you can find even a basketball coming soon flyer, summer clearance coming soon flyer, and much more for free.

Night party coming soon flyer
Whether you are going to organize a Halloween party, a ladies night out or a cocktail night party, a coming soon flyer can make it a happening event in no time! You need to just make sure that you include interesting images of high-resolution and the design should be utmost professional. Use unconventional fonts in large size for the header that should clearly convey about the kind of night party that should enjoy.

Real estate coming soon flyer
Real estate companies rampantly use coming soon flyers and why not? These flyers with impressive images of their homes or apartments for sale often create a lot of interest and they are flooded with calls from prospective buyers.  If you want to create such a flyer, it is best to not forget that you should include your mobile number and property details in a beautiful way. Try to use subtle colors and if still, you face trouble, you can always use my readymade real estate coming soon flyer templates.

Restaurant coming soon flyer
It is not necessary that in such a flyer, you need to put an image of your coming restaurant or menu details. It could be rather simple but perfect to generate enough curiosity among the locals among which you are going to distribute it. It could have just a bold header "Coming soon" in an eye-catching font type and the name of your restaurant as a sub-header.
If you have roped in a famous chef for your restaurant, do not miss to flaunt his or her name on the flyer in a very prominent manner. Of course, the flyer should have the contact details at the bottom. You can also put the name of your cuisine type that you will serve like multi-cuisine, Italian, Mexican, and more.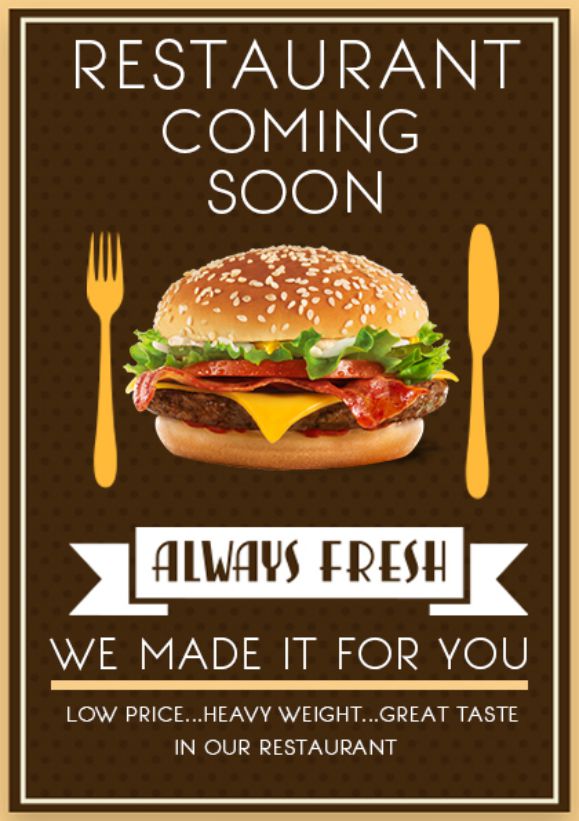 Summer sale coming soon flyer
If you are going to organize a summer sale, a flyer designed in bright colors like yellow or blue can work wonderfully to attract potential shoppers. Either you can create a summer sale coming soon flyer template that you can use over and over again with little customization or you can be specific and include the percentage of discount that you will offer on a few or all sale items to grab maximum eyeballs.


Winter sale coming soon flyer
For the above flyer, minimal design works best.  Confused? Ok, I am explaining it bit by bit. See, try to include the words 'coming soon' in bold letters at the center of your flyer design and a large image mainly associated with the winter season. Such an image could be the following ones:
Snowman
Woolen clothes
Snow Boots
Gloves
Ice skating
Snow
The image can be also something related to the items that you will put on winter sale. Believe me; such a flyer will generate a great buzz!

Whatever may be the event, I am here to help you as I have the exquisitely beautiful event coming soon flyer templates for you! All that you do is to browse through our templates and choose the one that you think is appropriate for your event. Just click on it and download the same on your computer.  The real catch is you can also customize all our coming soon flyer templates with your existing skills in Microsoft Word. I assume that in a tech-savvy world, you may all have picked up some essential computer skills and you will not experience any kind of difficulty in doing so. Use your creativity during customization of my flyer templates and you will be surprised to see the end results.
So, cheers!!!
Browses chose and download as per your wish. Make sure to send me your views regarding my flyer templates in the comment section. Your little effort can motivate me immensely to work harder and help you in manifold ways.